EWC-6 "The JamMan"
89,00 €
Add to cart
Shipping from 06/12/2023
In stock
Shipping from 06/12/2023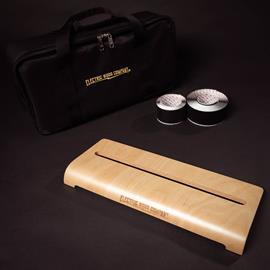 EWC-6 "The JamMan"
89,00 €
Shipping from 7,99 €
Product made in France
The 6' is designed to hold a maximum of 6 medium-sized effects pedals in a row
The "JamMan "is the pedalboard of the free-as-the-wind desperado, ready to be drawn at the chance of an improbable jam or an impromptu rehearsal. Its small size and its backpack case make it the pedalboard of the essential, thought for long-distance travel and difficult displacements of large cities.

WARNING!: the 6' is designed to be light and mobile, thought to be powered by connectors in parallel "daisy chain" type with a transformer of the wall socket type. IIt is not designed to attach a power supply underneath, in the best case, the power supply will take the place of a pedal on the pedalboard.

Specs:
Model: EWC-4618-6
Number of pedals from 4 to 6
Dimensions (L x W x H): 46 x 18 x 3cm
Board weight: 0.7kg
Supplied with a 2cm thick cover, equipped with backpack straps for transport
Delivered with: 1m of velvet Velcro for attaching the pedals to the board and 0.60m of Velcro hook to equip up to 6 pedals.