Accueil

Combo Reverb 535 BlueGrass
Combo 535 Bluegrass Reverb
1 999,00 €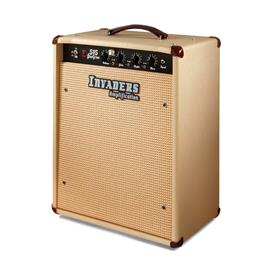 Combo 535 Bluegrass Reverb
1 999,00 €
Frais de port offerts sur ce produit !
Acheter ce produit via notre réseau partenaire
Produit fabriqué en Belgique
LE combo Reverb !
Merveilleuse performance en clean et crunch dans un combo fermé avec un haut-parleur Eminence Legend Signature. Le 535 BlueGrass Combo est un ampli au style vintage et au son Fender.
Amoureux de bel ampli et d'un son clean, ce combo est fait pour vous !

Encore plus de finesse avec la reverb à ressort intégrée !

Première particularité, ce combo possède un caisson fermé pour plus de rondeur et une réverbération à ressort délivrant le son classique que vous connaissez et aimez.

Réglage des graves et des aigus pour sculpter votre son et un switch Sweep pour travailler les mediums et une puissance de 35 watts. Trop de volume? Utilisez le power switch pour moins de puissance et obtenez 17w.

Il est également équipé d'un contrôle de gain et d'un volume très précis qui vous permettront de passer d'un son ultra clean à un léger crunch ou une distorsion naturelle bien dans l'esprit des seventies.

35 W / 17 W Full tubes (Power switch)
Tube Amp Doctor Premium 6L6WGC (x2) / 7025 WA HIGHGRADE (x1) / 12AT7 / GZ34
Speaker Outs - 2x 4 - 1x 8 Ohm
One Channel - From a clean/crunch styled
Crunch Switch - Adjust your gain for the clean/crunch
Master volume - Control your volume
Equalization - Classical feature: Bass and Treble
Reverb Volume - Control your spring reverb volume
Sweep Switch - Frequency curve variation for medium boost
Bright Switch - Brightens the tone
Speaker - Eminence Legend Signature speaker – 8 ohm – 150W
Sizes - W: 44,5cm / D: 28,5cm / H: 55cm
Weight - 19 Kg

Le Combo Reverb 535 Bluegrass est fourni avec une fiche d'alimentation et une housse.