Accueil

Batterie Magazine numéro 186
Batterie Magazine numéro 186
Réf. Batterie 186
Fabriqué par : Editions BGO
Batterie Magazine numéro 186
8,20 €
Ajouter au panier
Expédition prévue sous 3 jours ouvrés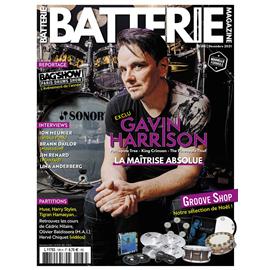 Batterie Magazine numéro 186
8,20 €
Frais de port offerts sur ce produit !
Produit fabriqué en France
2021 ne sera bientôt plus qu'un lointain souvenir. Outre le contexte sanitaire, cette année en dents de scie a filé comme l'éclair, avec son lot de surprises et évènements (la reformation de Toto avec Robert « Sput » Searight, le nouveau Gojira, le retour de la Bag'Show, l'album posthume de Prince avec Chris Coleman...), et de tragédies (la disparition de Joey Jordison et Charlie Watts en tête). Pour ce dernier numéro de l'année, nos testeurs ont mis les petits plats dans les grands pour vous concocter un dossier shopping « spécial Noël » histoire de donner un peu d'inspiration à vos proches à quelques jours des fêtes. Notre équipe est également allé à la rencontre de Gavin Harrison (Porcupine Tree, King Crimson, The Pineapple Thief), intello sensible dont le drumming et la carrière nous réservent encore bien des surprises. L'Anglais nous a accordé un entretien passionnant et sans concession sur sa vision de l'instrument...
Période
Décembre 2021

Interviews
BRANN DAILOR (MASTODON) - Le réveil de la bête
EN COUV' :
GAVIN HARRISON - Relation fusionnelle

Pédagogie & Partitions
Groove Collection : Muse, Tigran Hamasyan, Harry Styles...
Les cours de Hervé Chiquet / IZI Drumming (VIDEO) :
Apprenez le rythme CHA-CHA-CHA
Les cours de Cédric Hilaire / D-Click Online (VIDEO) :
Comment composer des breaks du style « Linear Drumming »
LES CARNETS M.A.I. (VIDEO) :
Par Olivier Baldissera
PLEASURE : Comment jouer les titres « Universal » et « Nothin' To It »

Dossiers & Rubriques
REPORTAGE : BAG'SHOW - PARIS DRUMS SHOW 2021 - L'événement de l'année !
NEWS : toute l'actualité du groove
FAITS DIVERS
MY SOCIAL MONTHLY GROOVE : Les conseils réseaux sociaux
OSEF #9 - Le billet d'humeur de Morgan Berthet
INTERVIEW « PREMIÈRE FOIS » : Lina Anderberg
CRASH BARRIÈRE - BILLET #2 : Mike Portnoy (The Winery Dogs)

RECORDS : La sélection de la rédac'
BEST OF - « Les 10 albums qui ont changé ma vie » : Ion Meunier (Shaka Ponk)

SPOTLIGHT : Arnaud Verrier (Ten56.) / Jim Renard (Woodkid)
DERRIÈRE LE KIT DE... Jim Renard (Woodkid)

Matos & Logiciels
Retrouvez les vidéos de nos tests sur notre chaîne : https://www.youtube.com/BatterieMagazineTV
Groove Shop - Notre sélection de Noël
Big Fat Snare Drums, LP, SkyGel, Korg, Zildjian, Stagg, Remo, Lalite Drums...
2021 ne sera bientôt plus qu'un lointain souvenir. Outre le contexte sanitaire, cette année en dents de scie a filé comme l'éclair, avec son lot de surprises et évènements (la reformation de Toto avec Robert « Sput » Searight, le nouveau Gojira, le retour de la Bag'Show, l'album posthume de Prince avec Chris Coleman...), et de tragédies (la disparition de Joey Jordison et Charlie Watts en tête). Pour ce dernier numéro de l'année, nos testeurs ont mis les petits plats dans les grands pour vous concocter un dossier shopping « spécial Noël » histoire de donner un peu d'inspiration à vos proches à quelques jours des fêtes. Notre équipe est également allé à la rencontre de Gavin Harrison (Porcupine Tree, King Crimson, The Pineapple Thief), intello sensible dont le drumming et la carrière nous réservent encore bien des surprises. L'Anglais nous a accordé un entretien passionnant et sans concession sur sa vision de l'instrument, son rapport au business et à l'argent, égratignant au passage certaines facettes du métier (les drum clinics, le boulot de session man). Une discussion également marquée par l'expression d'une dévotion sans borne envers son art. Gavin sera même pris d'un rare fou rire en décrivant ce rapport quasi charnel qu'il entretient avec la batterie... On ne pourra s'empêcher d'établir un parallèle avec Jimi Hendrix qui avouait dormir avec sa guitare... Sans aucun doute notre meilleure entrevue avec l'artiste en 17 ans.
Bonnes fêtes à tous nos amis batteurs, que l'horizon de cette année 2022 rime avec passion, énergie et réalisation !

La Rédaction