Accueil

'Ashram' Guitar/Bass Hippie Strap
Ajouter au panier
Expédié à partir du 18/12/2023
En stock
Expédié à partir du 18/12/2023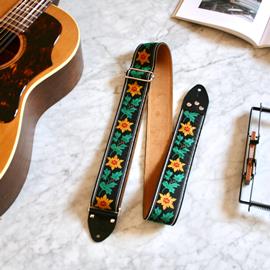 Ashram
49,00 €
Livraison à partir de 7,00 €
Acheter ce produit via notre réseau partenaire
Produit fabriqué en France
Vintage Inspired Guitar/Bass Straps
"Tom's Vintage Strap" guitar/bass straps are the most authentic modern replicas of the hippy weave straps made famous by countless iconic guitarists throughout the 60's and 70's.

These high quality jacquard weave hootenanny straps have adorned the shoulders of many of the greatest guitarists of both yesterday and today.

Specs :

New Old Stock (NOS) vintage woven fabric from the 60's and 70's.
Padded faux-leather back (soft Black, soft white or Brown Suede).
Black, white or Camel leather ends.
Adjustable length (25" to 58"). Additional length is available at €6.00 per 8".
Nickel buckles and rivets.
Handmade in France.
Built by hand, one-by-one, to vintage specifications. Get yours today!