Accueil

BUNDLE WILDONE GYROCK ed. + GRAVE TONE PRINCETON AMP
BUNDLE WILDONE GYROCK ed. + GRAVE TONE PRINCETON AMP
Réf. BUNDLE W1 + GRAVETONE
Fabriqué par : Wild Custom Guitars
BUNDLE WILDONE GYROCK ed. + GRAVE TONE PRINCETON AMP
5 489,00 €
Ajouter au panier
Expédié à partir du 19/12/2023
En stock
Expédié à partir du 19/12/2023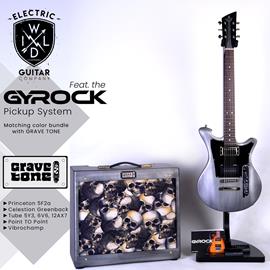 BUNDLE WILDONE GYROCK ed. + GRAVE TONE PRINCETON AMP
5 489,00 €
Livraison à partir de 30,00 €
Acheter ce produit via notre réseau partenaire
Produit fabriqué en France
BUNDLE WILDONE GYROCK ed. + GRAVE TONE PRINCETON AMP
MATCHING COLOR BUNDLE 
- WILDONE GYROCK ed.
- GRAVE TONE "PRINCETON" 

One guitar to Rock them all! Changing your guitar tone has always meant rewiring your guitar with new pickups. It's not the case anymore. Gyrock is a revolutionary concept that enables to load a wide range of pickups on a single guitar and to switch from one pickup to another in a split second. Gyrock is a patented technology developed by Wild Customs providing limitless options to your guitar. The Gyrock system is exclusively available on Wild Custom Guitars.

The WILDONE GYROCK is a set-in neck instrument. The body is made in Claro Walnut. It is a fine grained wood with great musical properties. The tone is warm and full with a good sustain. The neck is made in Mahogany, a tone wood associated with some of the most famous rock music of our time. The neck profile is a standard thin medium "C" shape. It will feel comfortable to most players and remains our most popular contour. The Wildone Gyrock edition features an ebony headstock overlay and a volute to reinforce the neck.

Whether you are looking for rich, authentic humbucking tones or nuanced singlecoil sounds, the Gyrock can seamlessly master most of sonic territories.

The WILDONE GYROCK ed. starter pack features

> SSL-2 B by Seymour Duncan
> SHR-1 B by Seymour Duncan
> Wild Customs' P90 "The Jalapeño"
> Neck pickup SH-1 by Seymour Duncan

Starter pack could be customized. Expansion pickup packs are also available on demand for unlimited tonal options.