Add to cart
Shipping from 07/12/2023
In stock
Shipping from 07/12/2023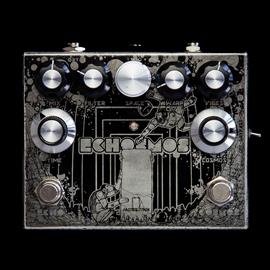 Echosmos
239,00 €
Shipping from 12,00 €
Buy it through our partners
Product made in France
Vintage delay with modulation and oscillation switch - matte finish
Echosmos is a vintage sounding delay that brings back echoes of times past and future. Fold space and time into psychedelic oscillations and traverse the vastness of the cosmos.

It includes a chorus modulation with adjustable intensity and speed that can range from a slight ripple reminiscent of an old tape echo to waves worthy of a bad trip.

The Cosmos tempo switch allows you to generate infinite repetitions of adjustable intensity with the Cosmos button. The exclusive DryPass function allows the dry sound, when the Cosmos switch is engaged, to pass over the repeats and remain fully intelligible.

Audiolithe pedals are handmade in our Montreuil workshop.
More info on audiolithefx.com

* Controls
ECHO: Bypass
COSMOS: temporary foot switch
Time: duration of repeats
Mix: volume of repeats
Filter: Low pass filter
Space: number of repetitions
Warp: modulation intensity
Vibe: modulation frequency
Cosmos: oscillation intensity
Drypass: the dry signal bypasses the oscillations

* Specs
True Bypass
Power supply: 9V DC (center negative).
Consumption: 34 mA
Dimensions: 126mm x 100mm x 53mm
Weight: 423g

AUDIOLITHE pedals do not use batteries because batteries are bad for the environment.