Accueil

Carte / Melophonic's Stratoliner 2020
Carte / Melophonic's Stratoliner 2020
Réf. Carte Melophonic's Stratoliner
Fabriqué par : The Cappel
Carte Melophonic's Stratoliner 2020
6,50 €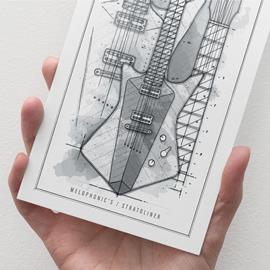 Carte Melophonic's Stratoliner 2020
6,50 €
Frais de port offerts sur ce produit !
Produit fabriqué en France
Melophonic's Stratoliner 2020 / Carte / French Curves
Ce plan esquissé a été réalisé en partenariat avec l'atelier de création Melophonic's dirigé par Matthieu Humbert.
L'illustration est tirée sur une carte format DL (10,5 x 21 cm) de 300 g avec un vernis UV brillant, fournie dans une enveloppe cartonnée kraft.

This sketched plan was carried out in partnership with Melophonic's directed by Matthieu Humbert.
The illustration is printed on a 300g DL (10.5 x 21cm) card with UV gloss varnish, supplied in a kraft cardboard envelope.

Livraison / Delivery
La livraison se fait par courrier dans les 5 jours qui suivent la commande.
Delivery is by courier within 5 days of ordering.