Accueil

Carte / Mikael Springer Neocaster 2020
Carte / Mikael Springer Neocaster 2020
Réf. Carte Springer Neocaster
Fabriqué par : The Cappel
Carte Springer Neocaster 2020
6,50 €
Ajouter au panier
Expédié à partir du 15/12/2023
En stock
Expédié à partir du 15/12/2023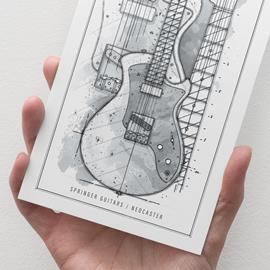 Carte Springer Neocaster 2020
6,50 €
Frais de port offerts sur ce produit !
Produit fabriqué en France
Mikael Springer Neocaster 2020 / Carte / French Curves
Ce plan esquissé a été réalisé en partenariat avec l'atelier de création Springer Guitars dirigé par Mikael Springer.
L'illustration est tirée sur une carte format DL (10,5 x 21 cm) de 300 g avec un vernis UV brillant, fournie dans une enveloppe cartonnée kraft.

This sketched plan was carried out in partnership with Springer Guitars directed by Mikael Springer.
The illustration is printed on a 300g DL (10.5 x 21cm) card with UV gloss varnish, supplied in a kraft cardboard envelope.

Livraison / Delivery
La livraison se fait par courrier dans les 5 jours qui suivent la commande.
Delivery is by courier within 5 days of ordering.